Parque do Mouchão, or Mouchão Park is a delightful park located right in the heart of Tomar's city centre. Many people flock to this historic town in the heart of Portugal's Ribatejo region all year round to visit the UNESCO World Heritage Sites of the of Convento de Cristo and the Temple Castle. During the summer months when crowds are big and the sun strong, the Mouchão Park makes for a perfect place to come for a relaxing walk in the shade of the trees.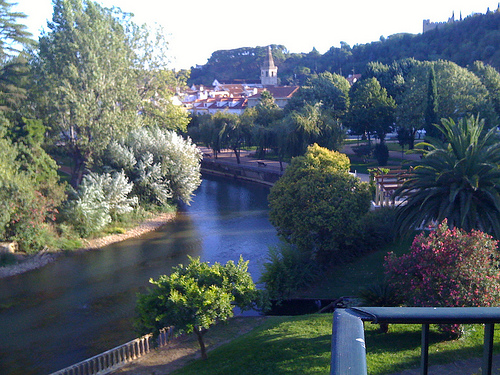 This lush green oasis is situated right in the centre of the city and is bisected by the pretty River Nabão that runs through its heart, creating a number of separate areas that are all connected via a bridge and a small weir. The park offers lovely views of some of the city's most important landmarks. Above the treetops rises the tower of the Church of São João Baptista, which was built in the 12th Century in the area now known as Praça da República. Stand on the island in the middle of the Nabão for the best view and to catch a glimpse of Portugal's famous Temple Castle in the distance. From here the bridge and the houses on the side of the old town also make for a pretty sight.
On the banks of the river is an interesting wooden water wheel in full working order, of that type that was highly popular in Tomar and throughout the region centuries ago.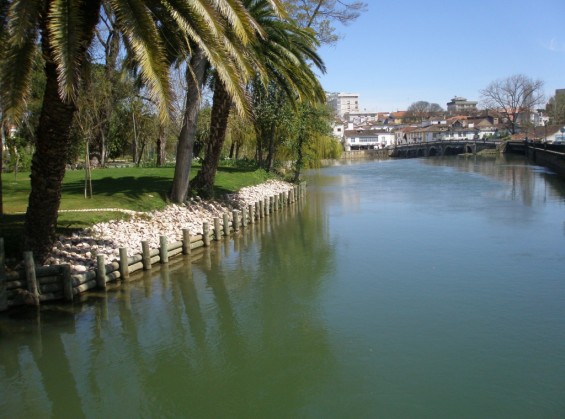 The park is a haven for children who will enjoy playing in the well-equipped playground and kicking a ball around on the football field nearby. Many families choose to stay in the Camping Park of Tomar, within the park itself, to make the most of their stay in this part of central Portugal. This makes for cost-effective accommodation in an eye-catching location, with plenty of facilities to keep the children occupied including a swimming pool, which is open to guests throughout the summer season. Another option for visitors looking to stay within the park boundaries yet close to the city's amenities is the Estalagem de Santa Iria, which occupies an idyllic spot on an island right in the middle of the park.
Whichever of these options you choose, the main historical and cultural attractions of the city are just a walk away as are its shops, restaurants and cafés.