Perched on a hill, a short stroll beyond the Templar Castle and convent complex, sits the Chapel of Nossa Senhora da Conceição. Originally the building was intended to be the king's funerary chapel, however when King João III died, in 1557, he was in the end buried in Lisbon, due to unfolding political events. However, it remains a tribute to Tomar's past strategic and cultural importance. The Renaissance chapel makes for a delightful hour or two of exploration and is within a short drive or pleasant walk from Tomar town centre. Take your time and enjoy the lovely views along the way as you climb the winding hill to its summit.
The Chapel of Nossa Senhora da Conceição enjoys an elevated position, with vistas over the city that rival those from its more famous neighbour, Tomar Castle.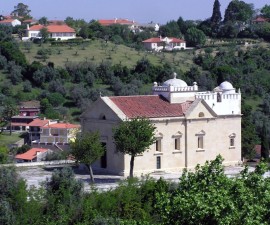 The chapel was begun in 1535 and was one of the last buildings to be completed by the renowned architect João de Castilho. It was innovative in its time for its use of windows and "compressed interior design" and reflects the influence of classical Italian architecture in Portugal during that period. It was restored in the mid 19th Century and underwent further renovations in the pre-Second World War years, ensuring its longevity.
The chapel consists of three naves with a slight transept and a narrow chancel. The transept is covered by a vaulted ceiling and central tower, while the chancel is encircled by a square roof rising to a small arched bell tower that is accessible via a domed staircase.
The chapel enjoys a high degree of decoration, with geometric and floral motifs, grotesque masks, cornices, friezes and funerary symbols and is well worth the visit for its interior and exterior beauty. It is nestled in a mostly-open churchyard with pretty landscaping and floor tiling and also includes a terraced garden to the rear, accessed by double symmetrical staircases.
The Chapel of Nossa Senhora da Conceição is open daily and is worth a visit in its own right, or as part of a combined trip with the nearby Tomar Castle and Convent complex, one of Portugal's most significant places of interest.